^
Sistema de viagem Plaza+ com alcofa e Pebble 360
Make cities a stroll
Desde o nascimento até aos 4 anos, aprox.
0 - 22 kg
Porquê escolher?
Complete 3-in-1 travel system
Switch from street to car with this complete matching travel system including the Plaza+ stroller, carrycot and our premium Pebble 360 baby car seat.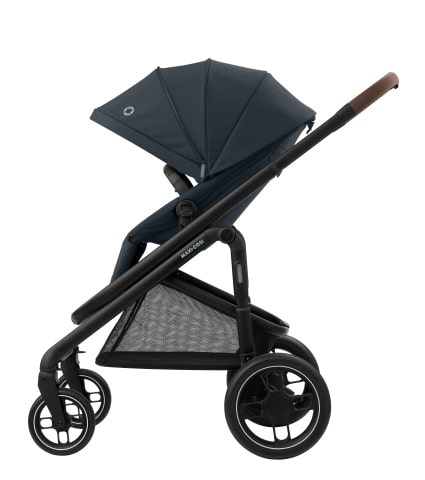 Smooth ride
Every ride feels silky smooth, whether you added the perfectly matching carrycot, baby car seat or the stroller seat on the Plaza+ frame!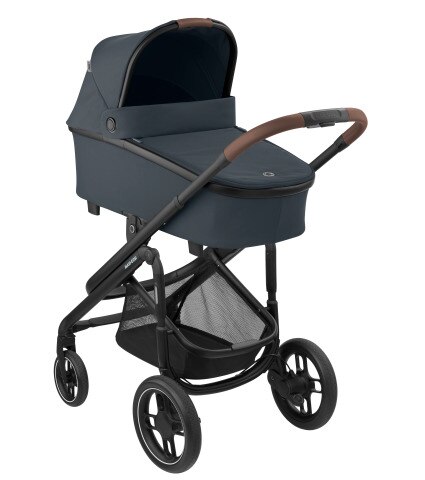 Comfort+ carrycot
With the matching super-soft, spacious carrycot that completes the Plaza+ travel system, your baby will experience ultimate comfort.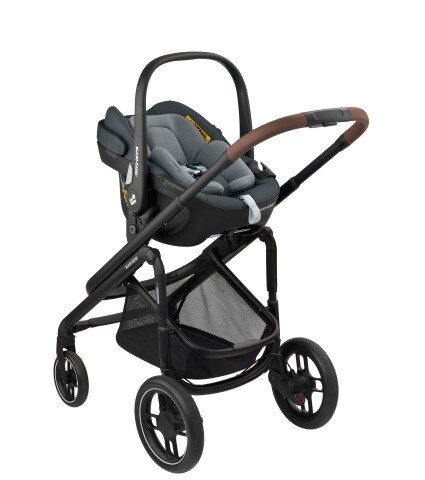 Maximum safety & comfort from street to car
i-Size compliant with ClimaFlow & easy-in harness for effortless switching between street and car from day one with Pebble 360!
Descrição do produto
A 3-in-1 travel system that is designed to make your family city life easy; our Maxi-Cosi Plaza+ travel system! The combination of the comfortable Plaza+ pushchair, matching stylish carrycot and one of our premium baby car seats: Pebble 360, makes a smooth from birth travel system! This urban comfort bundle makes it quick and effortless switching from car to street, while matching in style!
Create smooth rides with the Plaza+, a stroller packed with features! Part of the Plaza+ 3-in-1 travel system, it's the backbone to this complete bundle and a comfortable backbone it is! This urban comfort stroller is designed to make your family city life easy. Multi-tasking parents can recline or fold the stroller using one hand, while they hold onto their child with the other. An easy-in harness, one-handed adjuster & magnetic buckle makes quick work of getting your little one strapped in, safe & ready to go. The frame of this stroller creates a higher seat & carrycot position, which makes it easy on your back lifting your baby in & out. The 4-wheel suspension, Xtrail shock absorbers and large puncture proof wheels of the Plaza+ makes this complete travel system bundle silky smooth. The stroller with stroller seat can be used from the moment your little one can sit up by themselves up to approx. 4 years.
This urban comfort 3-in-1 travel system is just not complete without an extremely comfortable carrycot! With the matching in style carrycot attached, the Plaza+ 3-in-1 travel system is the most comfortable travel system for your newborn. Its wide, spacious mattress gives your baby a real bed to sleep in, while a ventilation window creates a fresh flow of air for your baby to breathe. The perfect matching carrycot can be used from birth up to 6 months.
When moving from street to the car, you want your little one to stay comfortable and safe! This is easy with our Pebble 360, the baby car seat that completes this comfortable and efficient travel system. It rotates super-smoothly and easily on the FamilyFix 360 base (sold separately) and can be turned around using only one hand. The easy-in harness of the Maxi-Cosi Pebble 360 makes getting your baby in and out quick and hassle-free, and the super-comfy Baby-hugg inlay keeps your little one snug at all times. To ensure your baby's safety and comfort, the Maxi-Cosi Pebble 360 has ClimaFlow to help regulate your baby's temperature and G-CELL Side Impact Technology keeps your baby protected from the forces of a side-on collision. With the adapters included in this complete travel system, the Pebble 360 can easily be attached to the frame of the Leona pushchair with just one click! The matching Maxi-Cosi Pebble 360 can be used from birth up to approx. 15 months.
Compare o Sistema de viagem Plaza+ com alcofa e Pebble 360 com outros modelos